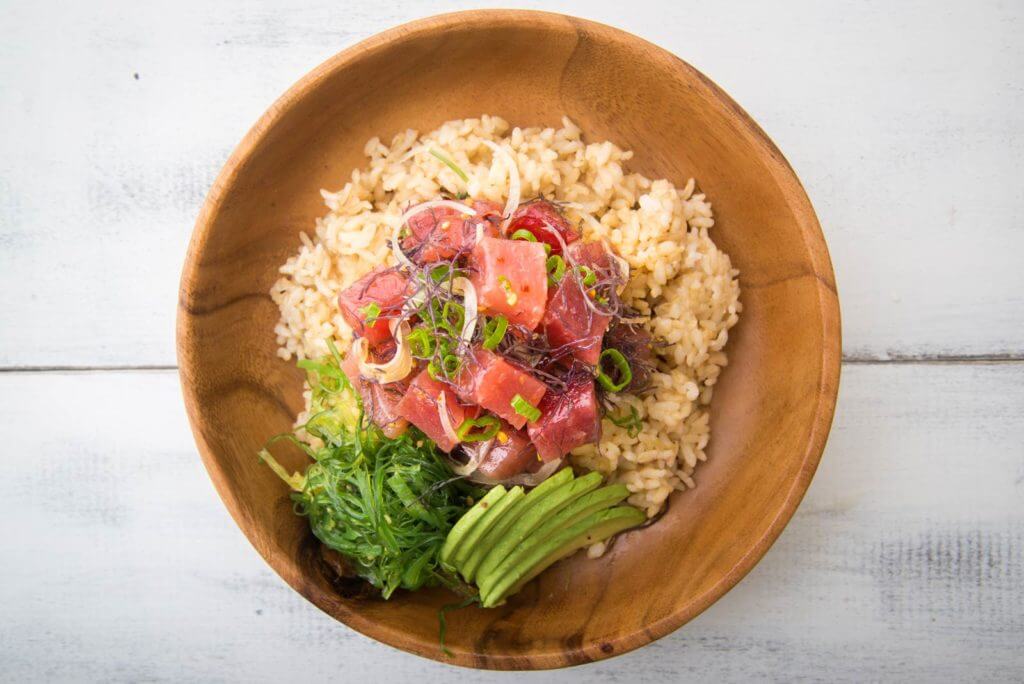 Create your own delicious and nourishing poke bowl with our easy-to-follow guide
Poke Bowl
This tangy dish is a traditional Hawaiian raw fish salad that has become internationally popular over the last few years. There are a number of variations out there, including the California poke bowl, but the simple versions of this seafood salad are usually the best.
Generally made of diced raw seafood, often marinated in salty, sweet sauces, and a simple combination of vegetables, the traditional Hawaiian poke bowl is a satisfying and delicious meal.
Structure:
Base: Usually rice but you can also use other grains, greens, or noodles. It is not essential to have a base. Fresh raw seafood: Aku (an oily tuna), he'e (octopus), ahi (also known as yellowfin tuna), oand salmon are the most common seafoods found in poke bowls.
Toppings: Avocado, green onions, seaweed, cucumbers, and edamame all make flavoursome and refreshing additions.  Sauce: A mix of soy sauce, rice vinegar and sesame oil is a popular option. Sriracha mayonnaise is also often used as a dressing.
Recipe:
Ahi Poke with Brown Rice
Ingredients
½ cup raw brown rice
450g sushi-grade ahi tuna (yellowfin), cubed
Shredded daikon (optional)
3 tbsp soy sauce
2 tbsp rice wine vinegar + 1 tsp extra
2 tsp sesame oil
1 tbsp sesame seeds
3 spring onions, thinly sliced
Pinch of sea salt
Small handful of dried wakame (seaweed)
½ tsp sugar
½ tsp chilli flakes
½ avocado, sliced
Shredded nori and/or Red Garnet microgreens (optional)
Steps
Whisk together soy sauce, sesame oil, rice wine vinegar, sesame seeds and sea salt in a medium mixing bowl. Set aside 1 tbsp of the mixture and pour the rest over the tuna then add shredded daikon and spring onions and gently turn to coat. Cover the bowl and let it marinate in the refrigerator for an hour.
Cook the brown rice per the packet's instructions and allow to cool slightly.
Cover wakame in warm water and soak for 5 minutes. Cut into thin strips if whole.
Add the sugar, chilli flakes and extra vinegar to the remaining marinade, mix well then pour over the wakame.
Spoon the brown rice into your bowl then arrange the tuna with the dressing, avocado and wakame salad on top. Sprinkle with microgreens and/or shredded nori for an extra flavour burst.
This article was originally published in Issue 4, Audrey Daybook – Living with Presence. Audrey Magazine is now known as Mindful Puzzles.