Explore the stunning lakes and mountains of Switzerland's Montreux Riviera.
The gods looked down one day and saw that people were tired of their routines and needed more beauty in their lives.
'Let there be a place of utter serenity, where mortals can come to refresh their spirits,' the gods said. 'We'll start with a calm, blue lake. Let's plant the shoreline with flowers and palm trees to create a sense of plenty and wellbeing. Then we'll put snow-topped mountain peaks all around, to inspire feelings of wonder and awe. Just for fun, let's have a fairytale castle rising out of the lake, and a scattering of pretty villages within easy reach of a sophisticated city. And then, because we're feeling really generous, let's fill this magical place with activities centred on music, wine and – oh yes, chocolate.'
This, I'd like to think, was the genesis of the part of Switzerland known as the Montreux Riviera. Bliss here began for my partner and I, as for most Montreux visitors, with the vintage paddle-steamer ride to Château de Chillon, the medieval island-castle that attracts thousands of visitors each year to the region it once guarded. This approach by water is a joy, as there's time to take in the whole scene and appreciate how beautifully the castle sits in its lake-and-mountain setting.
We chose to walk back to Montreux along the Promenade of Flowers, a distance of about 2.5km. Our walk's endpoint was the statue of Freddie Mercury on the waterfront in Montreux. If ever there was a monument that befitted the phrase 'pride of place', this is it. An emblem of personal triumph, the larger-than-life-sized statue faces the magnificent Alpine scenery with one arm held high in victory, as if to say 'I deserve this'. It's an emotion worth channelling as you stand beside the effigy of this long-time Montreux resident and lead singer of one of the world's most legendary bands.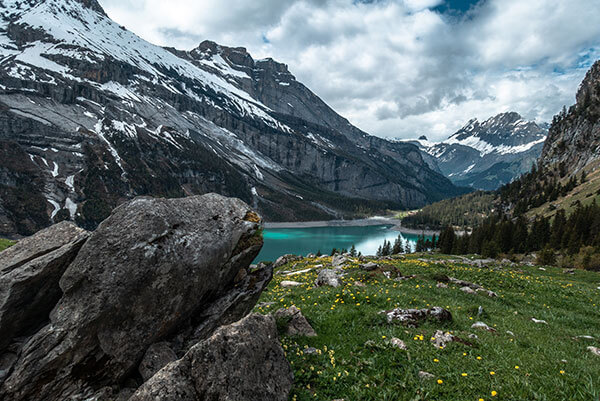 While the chocolate-making pedigree of the Montreux region is impressive, its wine-making history goes back much, much further. More than a thousand years ago monks began to grow vines here, and the viticulture has never stopped. The result today is a dreamy landscape of terraced hillsides where visitors can cycle, walk and picnic amidst ancient vineyards, picturesque villages and welcoming cellar doors. The World Heritage Lavaux Vineyard Terraces feel a world away from the bustle of downtown Montreux, yet can be reached in as little as 15 minutes by train. Lavaux look its best in autumn, when the rich orange-red colours of the vines contrast with the blue of the lake.
A longer (one-and-a-quarter hour) train trip winds through classic Swiss farming and forest scenery from Montreux to the hilltop town of Gruyères , where we toured the famous cheese factory, visited the stunning castle, and dropped in to the surreal Giger Bar with its Alien-themed interior. The journey can be made by local rail, or with an upgrade to the 'Chocolate Train', which uses first-class Belle Epoque-style Pullman carriages and includes a further stop for a tour and tasting at the Cailler chocolate factory in Broc. A very different day out is the trip by cog railway (55 minutes) to Rochers-de-Naye, a 2000-metre peak commanding dramatic views of Lake Geneva and the Alps. In summer you can hang out with cute marmots, enjoy the serene Alpine garden, or test your limits on the challenging Via Ferrata. Winter, of course, brings highly scenic skiing.
Thanks to the brilliant Swiss public transport system, all these excursions are easy to accomplish, and in each case you'll be brought back to central Montreux, ready to enjoy the nightly promenade. On our last evening we lingered on the lakefront to watch the sun go down. Trees, flowers, water and the figures of swimmers in the lake glowed brightly as the atmosphere turned from blue to gold. We imagined the silvery scene that would replace this one in just three months, when the sparkling Montreux Christmas markets would be in full swing. Summer or winter, gold or silver, it's a place of divine beauty – truly, as the Queen album says, "made in heaven".
The writer was a guest of Switzerland Tourism. Visit www.myswitzerland.com and www.myswitzerland.com/rail.
This article was originally published in Issue 2, Audrey Daybook – Gratitude & Mindfulness.