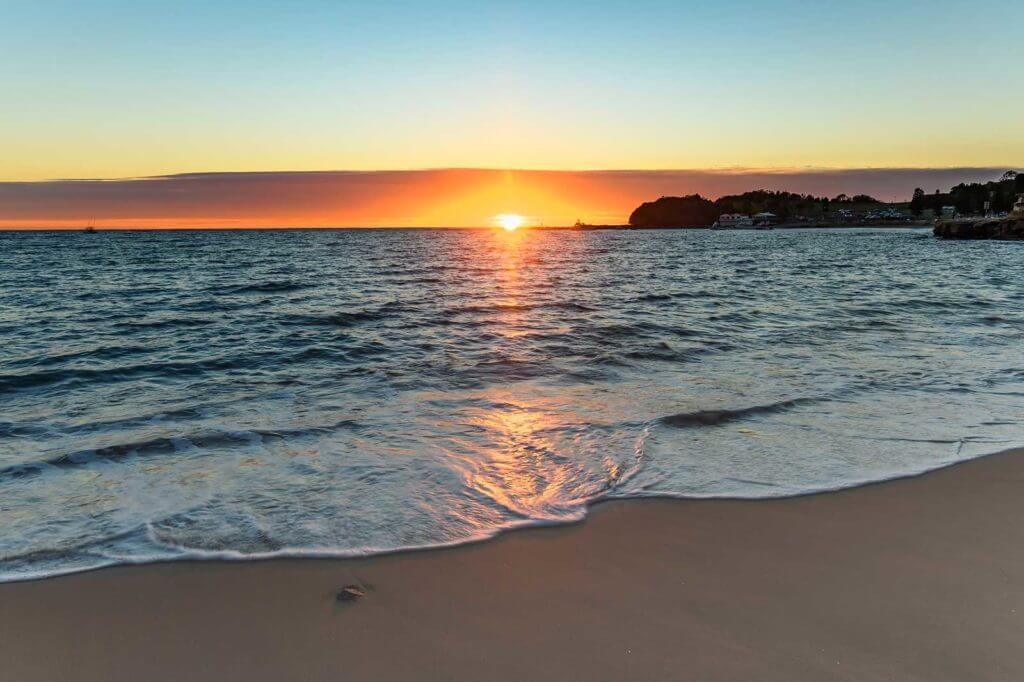 Discover the beautiful seaside town Audrey calls home.
You've maybe heard about our little slice of heaven, where laidback beach lifestyle intersects cultural-cool. An irresistible town located 1.5 hours north of Sydney, Terrigal is home to Audrey Daybook and Lovatts Media and also some of the east coast's most enjoyed cafes, sophisticated restaurants and the dazzling Terrigal Beach, frequented year-round by both tourists and locals alike. Located at the southern end of 4km of beach stretch, the shores are backed by its infamous Norfolk pine trees, providing the ideal shady locale for spring time picnics amongst the friendly faces.
Peruse the designer boutiques that line the esplanade like Designer Forum, housing some of the country's most sought after labels like Dion Lee, Bec & Bridge and Zimmerman and unique pieces you won't find elsewhere.
Where's the best coffee in Terrigal? Located on the esplanade and virtually on the beach, Bellyfish Café is Audrey's home away from home where we enjoy perfectly brewed coffee while watching the dolphins frolic. Using fresh local produce, Bellyfish's menu is a delicious treat worth dallying over as the waves roll in before you.
Looking to experience a romantic lunch for two? Don your newly purchased Camilla kaftan and relish Terrigal's most sophisticated dining spot, Reef Restaurant. Located over the hill at The Haven, Reef Restaurant boasts panoramic views of the beachfront and a menu to accommodate your every culinary desire. Enjoy a degustation or choose from their vast menu of delicacies including vegetarian options, seafood platters to share or local oysters all at market fresh quality. Wash it down with a glass of Salon S Cuvée and save a little room for a cheese platter or one of their signature desserts.
How does a luxurious massage or spa treatment atop the glorious Terrigal Beach sound? Clear your morning schedule for an unparalleled sensory experience at Crowne Plaza Terrigal's Endota Spa. Endota Spa offer an array of treatments from a 30-minute Organic Express facial for a burst of hydration or a 225-minute Immerse spa package for a full body replenishment. Or why not enjoy Audrey's favourite – the Organic Relax massage.
Feeling rejuvenated in mind, body and soul, head on over to Terrigal Beach Markets! Held on the first Saturday of every month, these markets offer over thirty exciting stalls featuring handmade items from local artisans, unique artwork and designer pieces plus live music, food and face painting for the kids. They're located next to Terrigal Surf Life Saving Club, where you can bask in the sunshine and enjoy a light snack.
Did you know in 1942, with 72 of its 76 male members of the club on military service, a group of 15 members of the Ladies Auxiliary banded together to provide water safety on Terrigal Beach? Their efforts were recognised nationally and recorded by the Daily Telegraph: "To Terrigal falls the honour of having the first squad of girl lifesavers in the Commonwealth, notwithstanding the fact that they are not officially recognised by the Surf Life Saving Association of Australia". In 1985 the number of women patrolling the beach peaked at a third of the active membership and Terrigal that year provided the Central Coast with its first all ladies patrol.
Where's Audrey's favourite spot for the ultimate in hair indulgence… with a glass of bubbles on the side? Allure Hair Bar boasts an exclusive hair suite for hair wellbeing with high end products like Oribe and Kérastase. More than premium service in a luxurious atmosphere, Allure's philanthropic ways shone through last year donating a commendable amount to help provide food, shelter, education, accommodation and opportunities for underprivileged Thai children and their families.
There's a little something for everyone at Terrigal (we could continue on to rave about Pocket Bar's cocktails and Four Hands Pizza, the delight of walking to the top of the Skillion to look out over the Pacific Ocean, or the simple pleasure of a relaxing swim in the surf or exploring Terrigal's rock pools) and it's a place Audrey loves to call home.
Discover more places we love to explore in Issue 1, Audrey Daybook – Inspiring You.