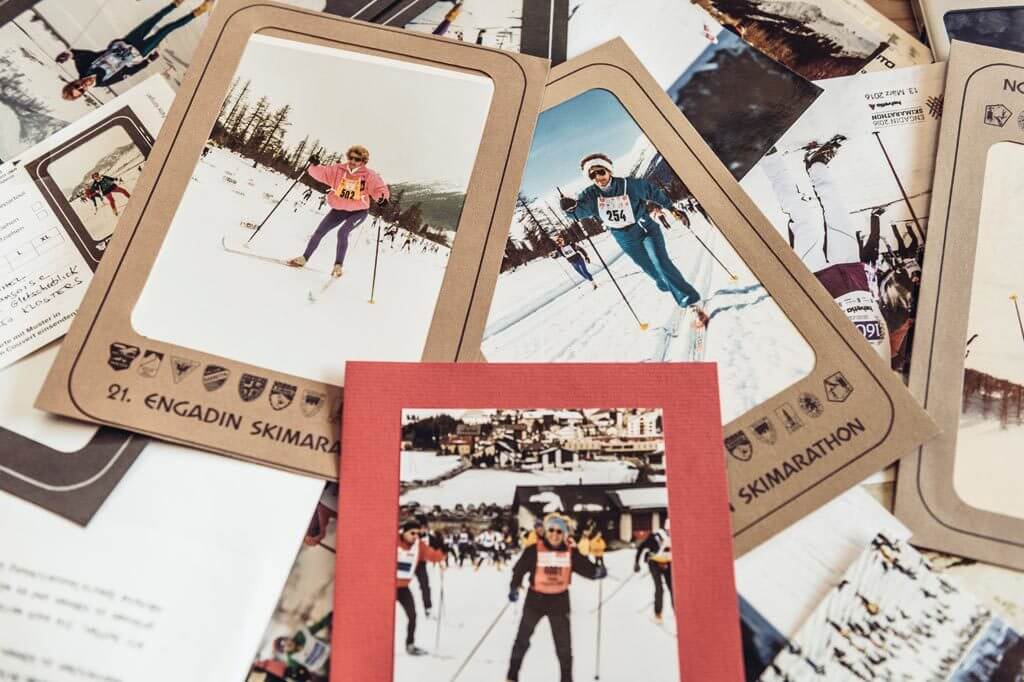 A journey to Switzerland led Françoise Stahel to her lifelong passion.
In 1959 French-born Françoise Stahel travelled to Klosters, Switzerland to work as a receptionist as part of a language stay. She enjoyed the beautiful summers but fell in love with the Swiss mountain winters. It was here that Françoise's life long love for skiing began, despite being forbidden to do so due to her job.
"They considered it far too dangerous and couldn't do without me at work," Françoise shares. However the lure of the slopes was too strong and she would sneak out to secretly indulge in her new favourite sport. Cross-country skiing became her life long passion. She entered the Engadine Ski Marathon in 1959 and hasn't missed a season since. In 1972, she even came an impressive second place, thanks to her talent for endurance skiing.
Today there are fifteen times as many participants in the 'Engadiner' as when it was first held. Over 13,000 skiers take part each year, lining up on the shores of the frozen Lake Sils to begin the 42-kilometre-long cross-country endurance course. 1,500 volunteers help manage the entrants, 3,723 of them participating for the first time. Françoise, on the other hand, has become a fixture of the event.
At 80 years old, Françoise's training for each winter season has slowed down from covering 2,000 km per season to just under 200km. "I have been active my entire life. But I can feel my age, especially in the morning when I wake up a little stiff," she says. To stay active and healthy in preparation for the marathon, Françoise walks her dog several times a day and enjoys yoga sequences including Sun Salutations and Kapalbhati pranayama.
Now joined by her daughters and granddaughter, the three generations of women will compete together in the 2018 Engadiner, celebrating Françoise's 50th anniversary of being part of the great race. The Swiss mountains will serve as a stunning backdrop to Françoise's achievement of being the woman to compete the most often in this beautiful but difficult event.
Visit www.myswitzerland.com/rail for the Swiss Travel Pass (the Pass gives holders unlimited access to Swiss public transportation including boats, buses and trains, up to 50% off mountain railways and cableways, free entry to 500+ museums around the country; and children under 16 travel for free when accompanied by a guardian using the pass). Visit www.myswitzerland.com for more information, and explore Switzerland's beautiful Montreux region in Issue 2, Audrey Daybook – Gratitude & Mindfulness.