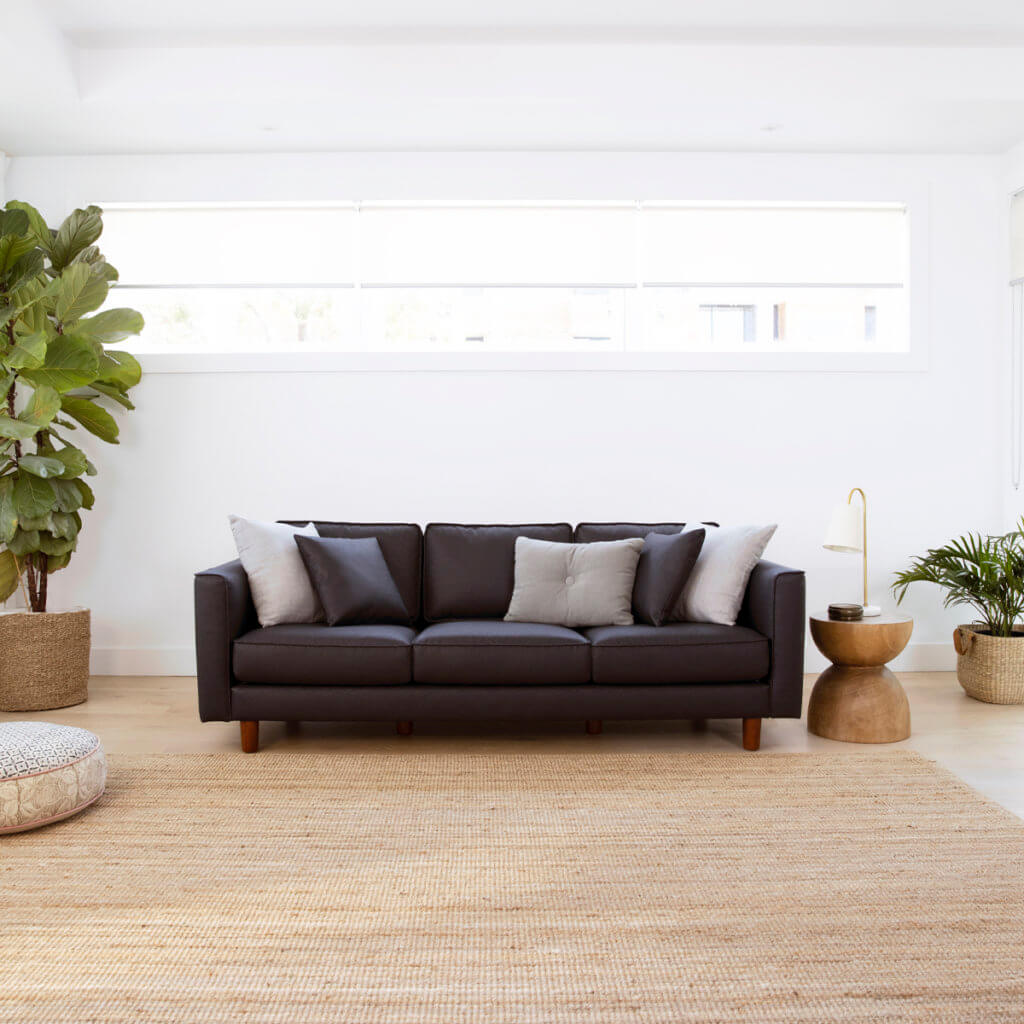 Alt-leather made from cork stars in Koala's latest innovation in ethical homewares. Meet the planet-loving, vegan-friendly Cork Sofa.
When it comes to homewares, combining ethics, style and comfort hasn't always been easy, but innovators like Aussie B Corp Koala, are changing the game.
ETHICS AND AESTHETICS
Ticking all the boxes for conscious consumers, Koala's latest innovation is their beautiful Cork Sofa, built on an FSC-certified wood frame and covered in a natural, animal-free and sustainable alt-leather made from the fibre of cork bark.
As we've come to expect from this young but highly influential Aussie enterprise, the sofa delivers on both ethics and aesthetics. Available in a warm natural Yarra Cork colour or timeless Jenolan Black, it replicates the luxe look we love from a traditional leather sofa, but with no cows harmed, and none of the toxic chemicals used in traditional tanneries.
THE SKINNY ON CORK LEATHER
Cork leather delivers a long-lasting durability, water-resistance, and a natural texture that lends itself to stylish use in furniture and fashion alike – without the moral dilemmas that accompany animal leathers.
The cork is sourced from the bark of cork oak trees, which have a huge capacity for regeneration and support a rich diversity of wildlife. Once stripped of its bark, the outer layer regenerates, meaning cork is an entirely renewable product.
It is estimated that every year cork oak forests retain up to 14 million tons of CO2 – but once you strip the bark (which increases the tree's lifetime expectancy) the tree absorbs, on average, five times more CO2.
MINDFUL PUZZLES AND KOALA 'SUBSCRIBE TO WIN' PROMOTION
We are more than a bit enamoured with Koala, and thrilled to be partnering with them on our current subscription offer.
Until 14 December, you can subscribe to Mindful Puzzles for a chance to win a $5,000 Koala voucher to spend across their bedding and furniture range.
Already a subscriber? A Mindful Puzzles subscription makes a beautiful gift – or you can consider taking part by subscribing to one of our other participating lifestyle titles: Breathe, Mindful Parenting or Nourish: plant-based living..
IMAGES: KOALA.COM
IN PARTNERSHIP WITH KOALA