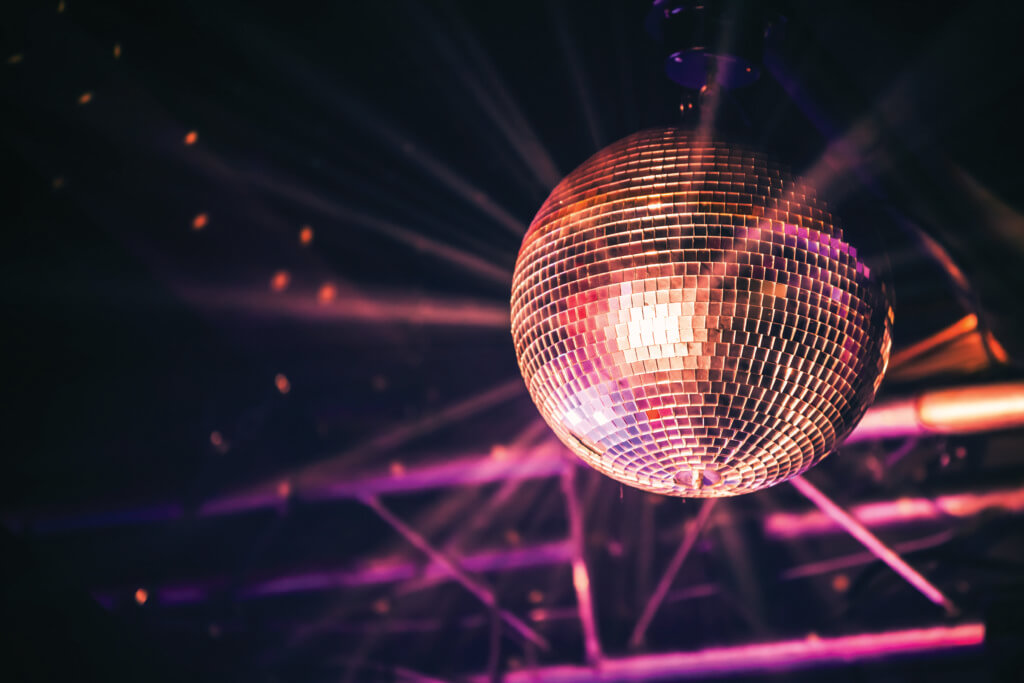 When was the last time you danced like nobody was watching?
The sound of music fills the room, enticing bodies to move along. They're all in their own zone, blissfully unaware of what those around them are doing. No one follows a set choreography of dance moves. Each person expresses themselves as they wish, free of any judgement on whether they've nailed that spin or perfected the art of voguing (or feeling embarrassed about doing that very 80s move!). Dancing in the dark comes with a release from the expectation of being a 'good' dancer, the fear of being observed, or the need to perform for others.
The expression 'dance like nobody's watching' is put into practise at No Lights No Lycra events across the world. Founded by dance students Alice Glenn and Heidi Barrett in Melbourne in 2009, No Lights No Lycra are community dance events that bring people together across the globe to enjoy music, exercise, and collective goodwill. These alcohol-free weekly nights are run by No Lights No Lycra ambassadors who welcome community members, pick the playlist, and turn out the lights – and then it's time to bust a move.
With sessions costing under $10, all ages and all abilities are welcome. While there are generally more female participants than male, the demographics tend to reflect the area the events are held in – the inner-city nights tend to have a more balanced attendance.
There are very few rules, although talking during the session is discouraged, and even in darkness, you still need to be conscious of others (so no wide Dirty Dancing-esque leaps across the dance floor, or breakdancing). What you wear, how you move, whether you sit a song out or dance the whole time – it's all up to you and what you want out of the experience.
The secret to No Lights No Lycra's success and longevity is simple: "total freedom of expression," says Alice. "It is a friendly and un-intimidating experience and community, run by enthusiastic and passionate ambassadors who are engaged with their community."
Bec is the No Lights No Lycra ambassador for Hurstbridge in the north-east of Melbourne. Having enjoyed dance lessons as a child, she's no stranger to the dance floor, but appreciates the relaxed environment that the events bring. "I'm comfortable dancing and being seen, but it's a whole different experience when you are dancing for yourself," says Bec.
Bec has been heartened by the community connections made since No Lights No Lycra Hurstbridge started in 2019 – especially given that there's no talking during the dancing time. "I thought it was limited in how much people would connect and have conversations, but there is enough time at the start or the end for people to get to know each other," she says. "Especially in that rush at the end you often hear people say, 'I loved that song!' and they connect over what they have just experienced."
"There really is an energy in the room; you can ride it like a wave," says Alice. "When everyone around you is happy and energised, it's infectious."
It is also a brilliant way to work up a sweat. Despite what its cheeky name suggests, lycra isn't strictly forbidden – activewear can be worn to the sessions, given you could end up doing a vigorous workout. "For me, the main attraction of No Lights No Lycra is the effect it has on my wellbeing and my mood, but I also consider it exercise," says Bec.
"I don't run or play team sports, so it is the only high-intensity exercise I enjoy." Each session's playlist is up to the ambassador, and usually consists of a mix of new and old tunes from different genres of music, so you're bound to hear something you enjoy. "It's also a great way to reminisce when you hear tracks from your past," says Bec. Alice says that as the experience of No Lights No Lycra is hard to put into words, you really need to experience it for yourself. "I encourage you to go along to your local session and give it a go," says Alice. "If you're attending with a friend, try dancing on opposite sides of the room to give yourself the best chance of completely letting go and dancing for yourself."
With dancing being such a social activity, the act of going it alone can feel both foreign and completely liberating. And with no one to perform to, you can get lost in your own world – something we might not do a lot as adults.
"When I was a child, my favourite thing to do was go into the lounge room – which had sliding doors so I could hear if someone was coming in – and put my favourite song on," recalls Bec. "I danced around as if I were on stage and I would just get lost in my imagination. I could be whatever I wanted to be for that song, as [if] I was trying on a different skin. When I dance at No Lights No Lycra, I very much feel like I did when I was a kid, performing just for myself."
To find an event near you, visit nolightsnolycra.com/all-locations-worldwide or check out their Instagram @nolightsnolycra