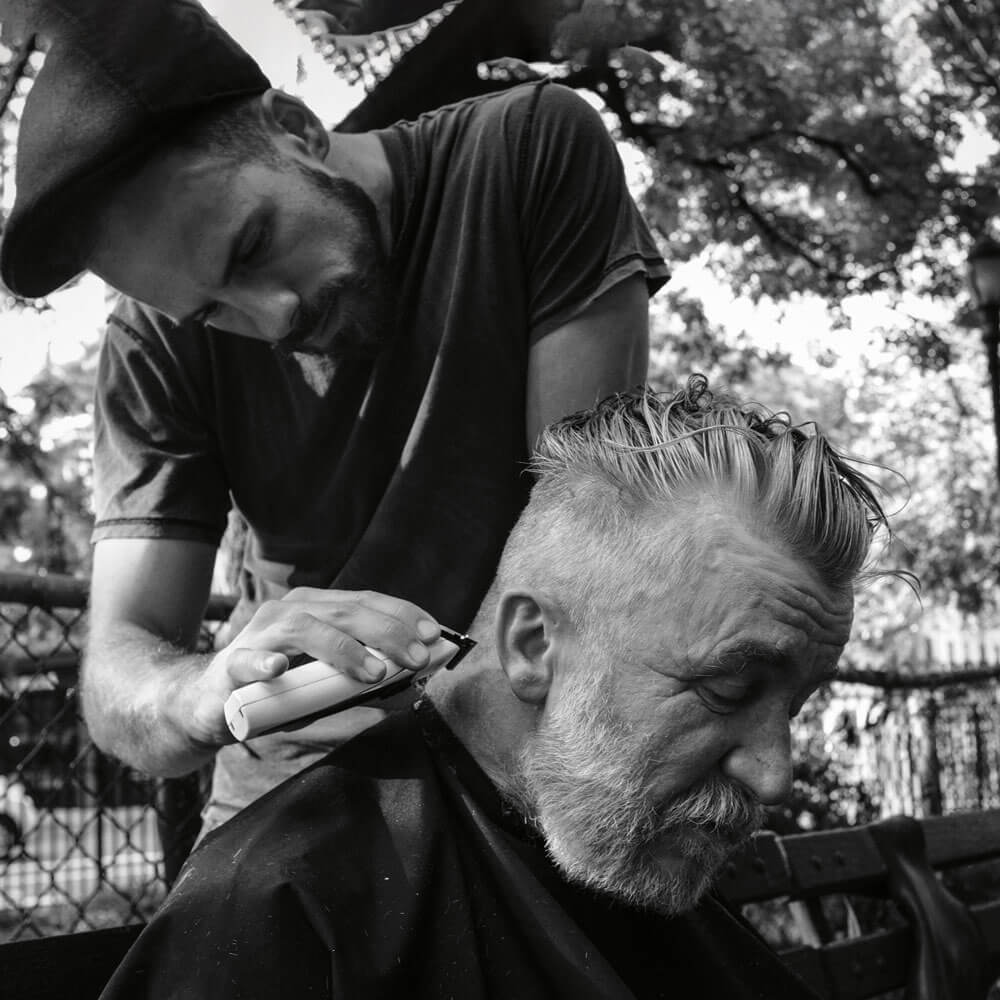 Described by singer Nick Cave as "A simple, big-hearted and world-shaking idea", Joshua Coombes's social movement, #DoSomethingforNothing, harnesses the power of small acts of kindness to empower and dignify.
When did you last see a homeless person? Sift through your memories: a kitten on the lap of a gaunt woman. Skirting around the makeshift shelter hunkering down in the aquatic depths of a pedestrian tunnel. Averting your eyes from the mutters of the figure in the corner of the train carriage.
I'd venture that most of us have vague sense memories from our brief encounters with the homeless. We skirt, avert, grimace, and perhaps feel a quick pang of shame or discomfort. Until one day, we just don't notice. Unless you're Joshua Coombes – in which case, on just another day in 2015, you walk out of the London hair salon you're working in and take to the streets to start offering free haircuts to the down-and-out people you meet.
Since that day six years ago, Joshua's grassroots movement, #DoSomethingforNothing, has grown from brief transformative interactions with individuals to a movement amplifying the voices of some of the most vulnerable people in our societies. Joshua has cut hair in cities across the world, building relationships with their inhabitants and humanising the issue of homelessness on a global scale to advocate for social change.
Joshua's new book, Do Something for Nothing: Seeing beneath the surface of homelessness through the simple act of a haircut, follows on the Netflix film hosted by Morgan Freeman, and introduces us to some of the people he's encountered on his journey.
SOMEONE ELSE'S STORY
Each vignette in the book focuses on a specific person, and has its own energy, its own sense of woe or hope, its own intimacy or sting in the tail. It negates the homogeneity of what many of us consider to be the 'homeless experience'.
These aren't a bunch of anonymous people – these are discrete, unique human beings with very particular stories and ways of connecting. Joshua coaxes out their words while physically working his hands through their hair. "The reason for the work I do is that I want to be a conduit. The stories of the people I meet are paramount, their words are paramount, and listening and trying to amplify their stories is paramount. They already have a voice – I am simply being the amplifier for somebody's voice."
Words: DONNAY TORR
Discover more on Instagram: @joshuacoombes and @dosomethingfornothing