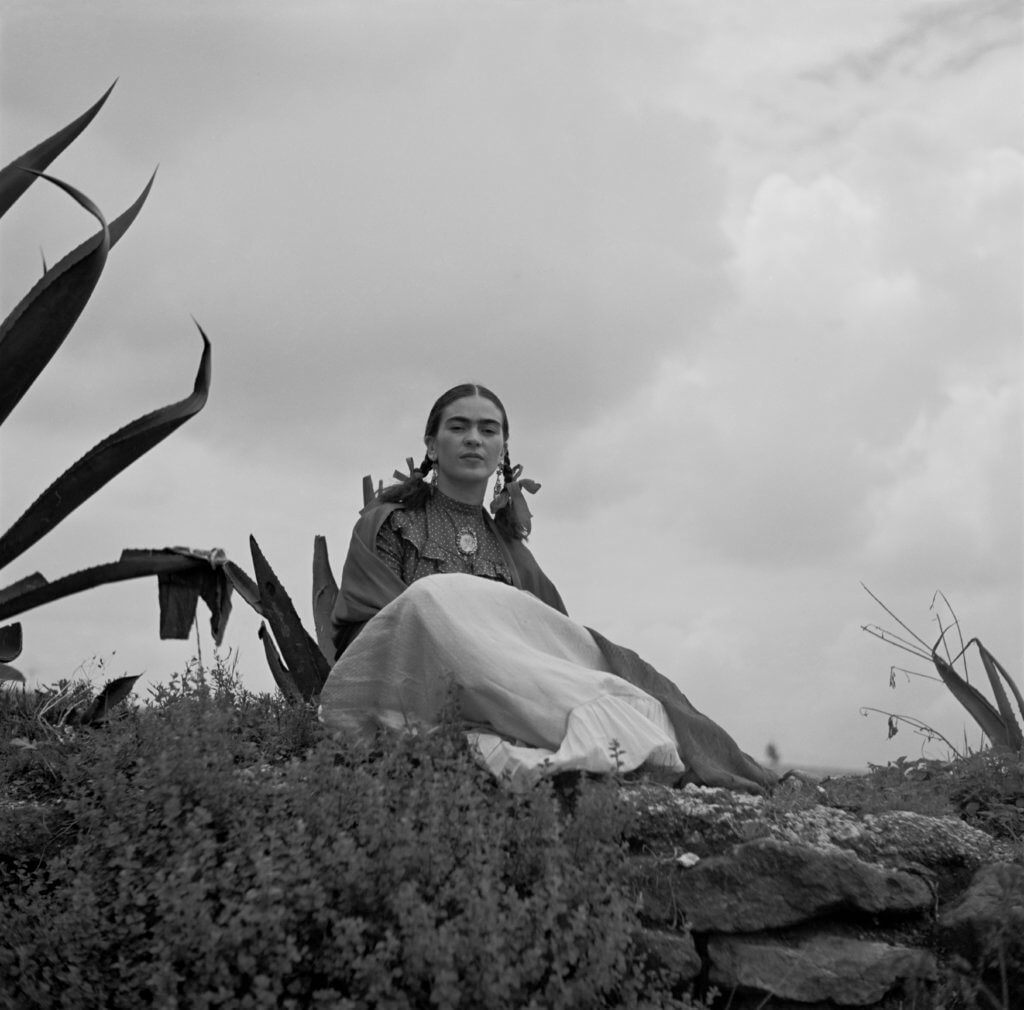 Uncompromising and unapologetically herself, a glimpse into the life of artist and icon Frida Kahlo shows us that our resonance lies in owning our authenticity.
When I think of Frida Kahlo, the words bold, candid, and radically authentic come to mind. She smoked, boxed, won tequila challenges against men, and dressed like a man too on occasion. She enjoyed defying gender stereotypes and wasn't afraid to confront her most tragic life experiences in the public's eye.
She grew up during a new beginning for Mexico, following the Mexican Revolution of 1910, which overthrew the country's 30-year standing dictator, Porfirio Díaz Mori. The spirit of the revolution – the rebellion against power and the fight for fairness – appealed to Frida and these memories stayed with her for the remainder of her life.
I fell in love with the Mexican painter before her monobrow and braided hair extensively populated tote bags, mugs, and T-shirts; turning to the rebellious feminine icon during a time of deep self-discovery in my early 20s – a time when I felt very different to my peers and constrained by the small community where I belonged. Everyone around me seemed so content following a similar path, but I always questioned: 'Is there more?'
Travel, culture, and immersing in places vastly unlike what I knew as home, was, and still is, an integral part of who I am. Having teachers for parents meant that every holiday opportunity we got, we hopscotched around Asia. The distinctive smells, sounds, lifestyles, cuisines, and languages set my soul on fire. I had seen real poverty and real tragedy, but had also been welcomed into the homes of families, been part of rituals and ceremonies, and made friends for life on the other side of the world. Each time I would return home, the disparity of privilege and despair became all the more apparent.
I would try to share this knowledge and these experiences with my school friends, but there was a disconnect. They couldn't understand because they hadn't been where I had been, which made me feel isolated and alone.
A seed was planted in those early years – a calling to stand up to injustices and to educate people about our wondrous world, and so that's what I did. I studied communications and international studies at university, spent a year living in central Java, Indonesia, and then worked for organisations and publications attuned to human rights, fair practices, and equality for all. I remember vividly when the dots connected in my early 20s, and I no longer felt estranged and weird to my friends; I stood for things, and standing up and standing apart isn't estrangement – it's important.
It was during my first year at university that I was gifted a small bookmark with Frida's enigmatic face, wedged between the pages of a new textbook. The quote on it read: "I never paint dreams. I paint my own reality." I was instantly drawn to the woman with the piercingly truthful eyes so I began to learn more about Frida. How she caught polio at age six, which severely weakened her right leg and foot. How her father, originally from Germany, taught Frida how to use his camera, and to play sports, despite that not being normal for girls at the time. How she passionately supported socialist politics, wanted to study medicine and become a doctor. And then how her plans were tragically derailed by a horrific accident. The bus she was travelling on collided with a tram and her body was disfigured; there was little hope for her survival. Frida wrote: "Death danced around my bed at night," from her hospital bed. She had to wear a plaster corset, and rest for months to realign her vertebrae. It was during this time that Frida discovered her love for painting and with a mirror fixed to the ceiling, would paint herself from her bed. And this is the reason I love Frida most. She constantly asked herself: 'Who am I?'
There's a reason, after all, that we cite her self-portraits as her most famous works. "I am my own muse," she's often quoted as saying, without a touch of irony, "the subject I know best." She transformed her pain into passion on canvas. Though there is always a sense of despair and suffering in her self-portraits, her gaze remained defiant and fierce. While so many women are depicted as the victim, Frida demonstrated that pain is an intrinsic part of life, but does not define us.
Frida met, fell in love with and married Diego Rivera, a famous Mexican artist who was 21 years her senior, despite the disapproval of her family and her friends. Their love was palpable and messy, and both spouses had multiple affairs – Frida openly had affairs with women, too, and made no apologies for her sexual choices, which was bold for the time. It was a miscarriage at age 24 which inspired her to paint about abortion, pregnancy loss, birth, and breastfeeding to shed light on the experiences shared by womankind. Diego remarked: "Never before had a woman put such agonising poetry on canvas as Frida did."
Frida became famous and held exhibitions in New York, Paris (the Louvre in fact purchased one of her paintings in 1939), and back home in Mexico where she was invited to be a professor of painting at the Mexican School of Painting and Sculpture. Her spine had become weaker so she ran classes from her home and then in 1953, held her first solo exhibition in Mexico. She arrived by ambulance and hosted the show from a bed in the centre of the gallery. As her health deteriorated, Frida continued to fight for a fairer, more peaceful world, holding a banner with a dove of peace at a political demonstration against US involvement in Guatemala. On July 13, 1954, 11 days after the protest, Frida died.
A rule breaker in both art and life, today Frida's work is so widely celebrated because it was unlike anything that preceded it. Entirely aware of her uniqueness, Frida throughout her life looked at herself in the mirror and continued to ask: 'Who am I?' What she saw was a woman who had experienced immense suffering yet embraced life with unmatched veracity.
If you have ever felt odd or different in any way, I encourage you to turn to these words by Frida: "I used to think I was the strangest person in the world but then I thought there are so many people in the world, there must be someone just like me who feels bizarre and flawed in the same ways I do. I would imagine her, and imagine that she must be out there thinking of me, too. Well, I hope that if you are out there and read this and know that, yes, it's true I'm here, and I'm just as strange as you."
I still have that beloved bookmark, albeit faded and creased. It's one of my most precious items.
Words: LEAH DAVIES