Learn more about Australian artist Felicia Aroney, whose inspired art graces the cover of Issue 11 of Audrey Daybook.
Felicia Aroney draws inspiration from her European heritage, channeling the distressed and peeled paint facades of classical architecture. Working with oils and acrylics, her distinctive floral and abstract works utilise a highly sculptural mark-making process, using a palette knife to layer and shape the paint until it stands in relief from the canvas. In this way her work evokes a sense of history and antiquity alongside exploration and depiction of the natural world.
Needless to say, the Audrey team was immediately enamored by her beautiful, sculptural art and Felicia happily has created a bespoke piece titled 'Sienna' for our Issue 11 cover! Read on to meet the talent behind the cover, Felicia Aroney…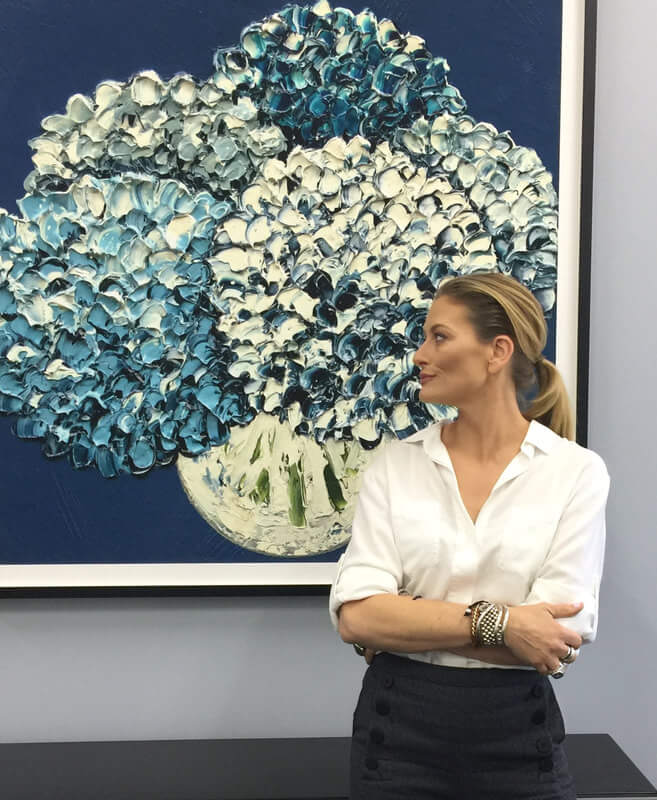 Tell us more about you and what you do…
I've always been a creative soul. I've also been someone who likes to achieve my goals. So it's always been a fine balance of feeling free enough to remain "creative" whilst pursuing my goals. As an artist it's wonderful having some raw talent, but it can only take one so far. Like anything in life, it's hard work and honing skills. It's looking for opportunity whilst keeping the creative juices flowing. With these philosophies and work ethics, my art has become full-time work. The benefits are so rewarding. Not only am I gallery represented Australia-wide, I too donate to 16 charities. I believe in karma and gratitude.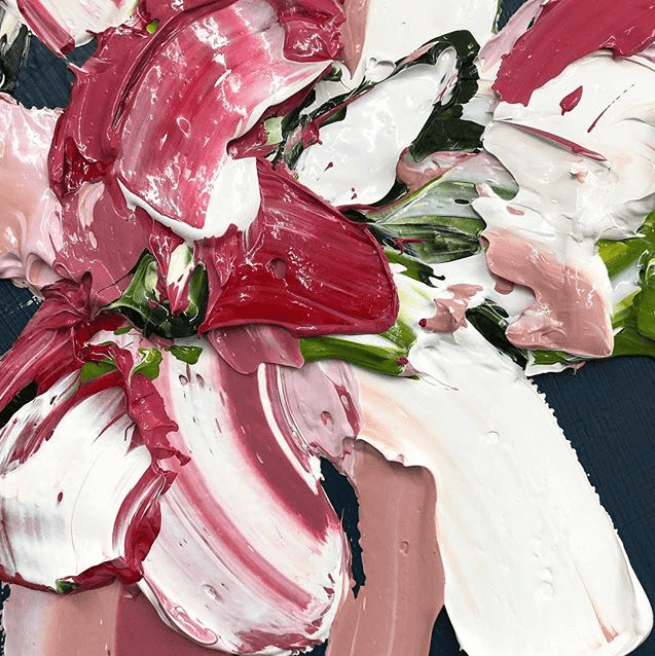 What is your most important tool? Is there something in your studio you can't live without?
Without a doubt my palette knives are my most important tools. I don't use brushes. I have an art supplier who create 10 litre buckets of paint for me in which I scoop huge amounts of structured paint with my palette knives and apply to my canvases. Other than the obvious things I cannot live without in my studio (my art supplies) I`d have to say good daylight and music.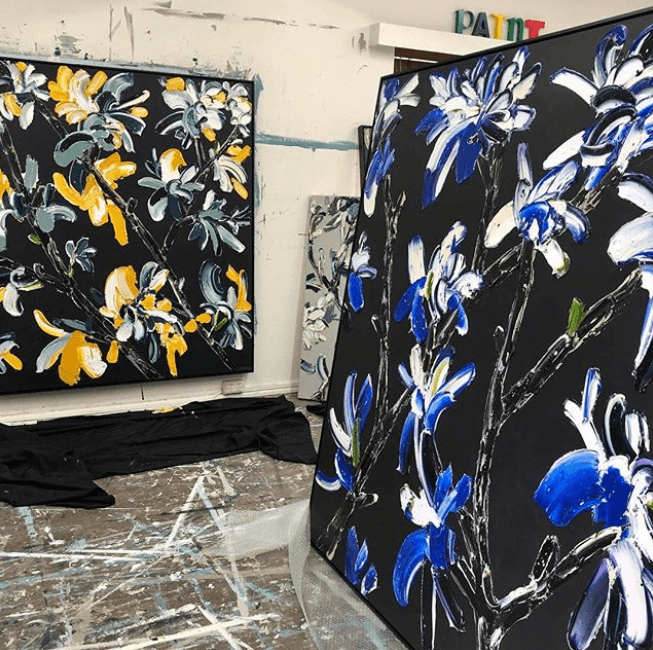 What inspires you?
Flowers and organic shapes inspire me. Texture inspires me. The antiquity of aged buildings inspire me, and books with positive affirmations inspire me. A healthy mind set is key to having a great day and painting inspiring and happy pieces for people's homes.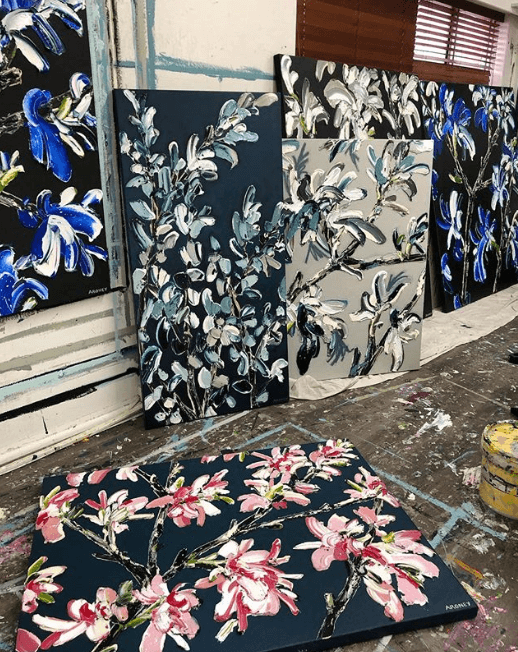 Is there an artwork you are most proud of? Why?
That's a difficult question. I've painted for so long now that I've learnt the art of appreciating my work, but not getting attached to any one piece. I'm proud when an artwork finds a home. I receive so many happy snaps from clients with my works installed in their personal space. That makes me very grateful and proud.
How do you know when a work of art is finished?
It's an instinct. I tend to keep revisiting a piece and once I stop, I know it's finished.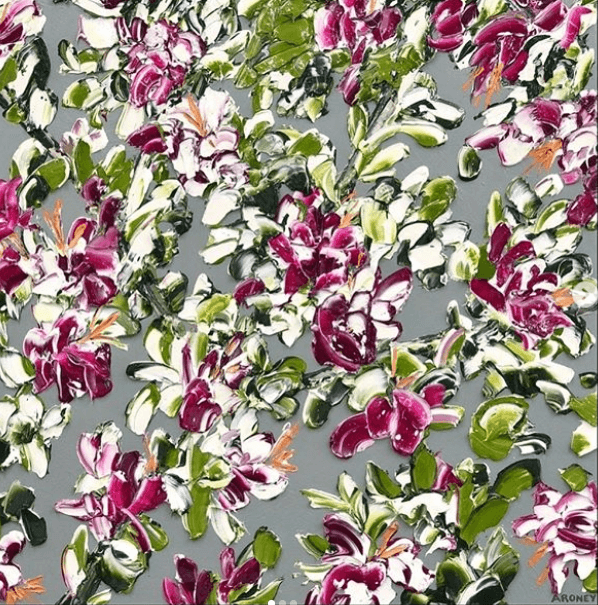 What themes do you pursue?
Flowers, plus abstract versions of flowers. My work is so textured and thick with paint that close up my pieces look quite abstract, however, from a distance they appear detailed. It's been a skill that's taken a good 15 years to hone, and I'm always improving. I find my themes vary slightly from year to year. I like to keep evolving. I love to paint so much I could paint every day of the week! Some weeks I do.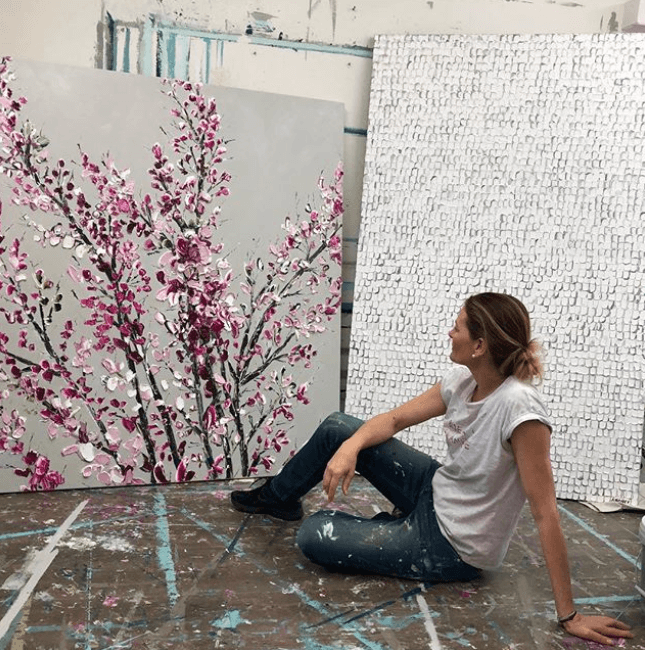 See more of Felicia's artwork at www.feliciaaroney.com and purchase Issue 11 – Follow Your Heart to enjoy Felicia's beautiful cover artwork 'Sienna'.