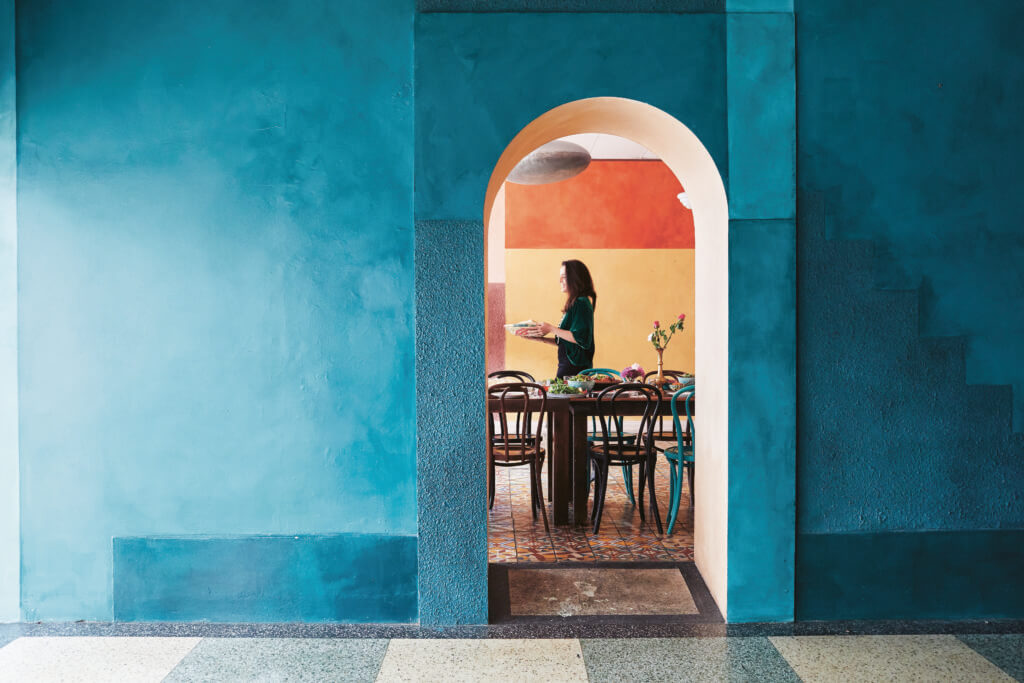 When Parwana opened its doors in Adelaide in 2009, the Ayubi family's vision was to share their heritage and memories through the delights of Afghan cuisine. Here, Durkhanai Ayubi reflects on the state of Afghanistan and the wider world, sharing some of her mother's fragrant and flavourful recipes.
Trying to determine the future in which the realities of Afghanistan will unfold remains a vexing pursuit. The dominant narratives that have prevailed have created norms that have driven the world to its present position at the cusp of crisis. Increasingly, we are all living out the various consequences of a world in which we exist in exile from our deeper nature, where the scale of questions we can ask, and the depth of self we can draw upon, has been expertly narrowed to create sanitised and sanctioned versions of reality.
The clash defining our times is now between reality and the narratives that have long tried to contain it. Issues such as climate and biodiversity breakdowns, the spread of conflict and disease, or the mass displacement of people, cut effortlessly across the fabricated boundaries of fear and nationalism that have been constructed around us. As challenges spread and grow in their immensity, the narratives that helped bring them into existence are being exposed as irrational, dangerous and antithetical to the survival of our species. And, as these existing narratives disintegrate, we are being beckoned forth, challenged to unmask deeper realities and to transfigure into the next version of ourselves.
The globally interconnected nature of these consequences betrays a critical and long-buried truth that needs to be revived once more: our histories, and our fate as a species, are deeply intertwined. Afghanistan, sitting at the heart of the ancient Silk Road – a network of routes which, incidentally, are becoming increasingly relevant once again – is a symbol of the interconnectedness and mutual dependence that has guided the course of the evolution of civilisation. Beyond the lens of fear and hostility that has become the dominant association with Afghanistan today, what is far more prescient in times such as ours is to probe beyond the constructed schisms and to glean from its story the capacity for human civilisation to cooperate and cross-pollinate.
In today's world, driven by exponential advances in technology, we are more interconnected than ever before, with people, goods, ideas, and conflict moving at speeds and in proximities that are unprecedented. Along with the challenges this brings, it also carries the potential for many boons – the chance to listen to, and build upon, every ancient wisdom we have collected as a civilisation and can now readily and easily share. The call of our time is to find the narratives that fit – the ones that reflect our potential for shared and boundless horizons. Our future perhaps depends most on our ability to find a collective answer.
Naan-e roghani
Naan bread with extra oil
Serves 4
This is very similar to naan flatbread, but differs in that it has a softer, pillow-like texture because of the extra oil added to it. Usually brushed with milk and then studded with nigella and sesame seeds, this naan bread is hard to resist. It is usually eaten at breakfast time, with some slightly sweetened green or black tea, or chai.
INGREDIENTS
125ml (½ cup) sunflower oil, plus 2 teaspoons extra
375ml (1½ cups) lukewarm water
4 teaspoons salt
2 teaspoons sugar
2 teaspoons dry yeast
750g (5 cups) plain (all-purpose) flour
60ml (¼ cup) milk
1 teaspoon nigella seeds
1 teaspoon white sesame seeds
METHOD
Add the oil, water, salt, sugar and yeast to a large bowl and whisk well to combine. Cover and set aside in a warm place, or at least room temperature, for about 15 minutes, or until frothy.
Place the flour in a separate large bowl. Make a well in the centre, then slowly pour in the yeast mixture, mixing with your hands to combine well. The dough that forms should be soft and sticky. Add the extra 2 teaspoons of oil to help release the sticky dough from the bowl.
Turn out the dough onto a work surface lightly dusted with flour. Knead for 5 minutes, or until soft and elastic. Place the dough in a lightly greased bowl, cover with plastic wrap and a tea towel over the top. Set aside in a warm place to rest for about 1½–2 hours, or until roughly doubled in size. Meanwhile, preheat the oven to 180°C and line 2 baking trays with baking paper.
Divide the dough into 4 equal portions. Place them on the trays, and flatten and spread each portion into rounds with your hands, ensuring they are relatively even in thickness. Push your fingertips into each round to create indentations, then brush with milk and sprinkle with the nigella and sesame seeds.
Place the trays in the oven and bake for about 15–20 minutes, or until the naans are golden brown and baked through. Serve hot.
Banjaan borani
Braised eggplant with yoghurt dressing
Serves 4
Banjaan borani has become a signature dish at Parwana. Its popularity arises perhaps from the overall balance of textures and flavours – soft, melt-in-the-mouth eggplant, simmered in a slightly acidic tomato base, topped with a tangy, cooling yoghurt dressing. My mother recalls that in Afghanistan, banjaan borani was a favourite during the summer, when eggplants were in peak season. That this dish has endured to become a favourite in Australia, speaks to the resonance of the human spirit across seemingly disparate worlds, and to the constantly evolving nature of culture. The recipe below is how banjaan borani would be prepared at home, to eat alongside a rice dish.
INGREDIENTS
Sunflower oil for deep-frying, plus 125ml (½ cup) extra
2 eggplants, peeled and sliced into 4 lengthways
1 large brown onion, sliced into semi-circles
6 garlic cloves, coarsely chopped
2 fresh long red chillies, thinly sliced
2 teaspoons ground coriander
1 teaspoon white sugar
1 teaspoon ground turmeric
1 teaspoon chilli powder
½ tablespoon white vinegar
1 tablespoon salt
5 large tomatoes, sliced
125ml (½ cup) boiling water
Mint leaves and chilli powder, to serve
FOR THE YOGHURT DRESSING
520g Greek-style yoghurt
1 garlic clove, crushed
½ teaspoon salt
METHOD
In a large saucepan, heat enough oil for deep-frying to 170°C on an oil thermometer.
Gently add the eggplant without overcrowding and fry, flipping the pieces over occasionally, until they are golden on both sides and soft all the way through. Set aside in a colander placed over a bowl to catch the excess oil and repeat with the remaining eggplant.
Heat the extra oil in a large frying pan over high heat and fry the onion, garlic and fresh chilli, stirring constantly, for 2 minutes, or until fragrant. Reduce the heat to low and add the coriander, sugar, turmeric, chilli powder, vinegar and salt, stirring for 2 minutes for the flavours to combine.
Arrange the tomato over this base to cover, then add the boiling water. Gently layer the eggplant on top with tongs and increase the heat to high. Bring to the boil, then reduce the heat to low, cover with a lid and simmer for 10 minutes.
Meanwhile, to make the yoghurt dressing, mix the yoghurt, garlic and salt in a bowl to combine well.
Spread half the yoghurt dressing over a large serving platter then, using a flat spoon, gently lift the eggplant and arrange it over the yoghurt, without overlapping. Spoon the onion and tomato sauce over the eggplant and decoratively dollop or spread the remaining yoghurt dressing on top. Garnish with mint and chilli powder to taste, and serve hot.
Cream rolls
Serves 18–20
When my parents were living in Afghanistan, these light, crisp, cream-filled pastry horns were bought from special patisseries known as kulchah feroshees. They are usually served during celebrations such as Eid or for birthdays. This recipe is my sister Fatema's – guided by my mother, the flavours of Afghanistan and her natural talent, she has become an expert sweet maker.
INGREDIENTS
250g plain (all-purpose) flour
1 teaspoon salt
250g butter, at room temperature and cut into small cubes
150ml chilled water
50g finely ground pistachios
FOR THE FILLING
900ml thickened (whipping) cream
30g (¼ cup) icing sugar, plus 250g (2 cups) extra for dusting
1 teaspoon ground cardamom
METHOD
Whisk the flour and salt in a bowl to combine. Add the butter and, using your fingertips, quickly and loosely rub the butter into the flour. You still want to see bits of the butter in the flour, so take care not to overwork.
Create a well in the centre of the flour and pour in the chilled water. Using your hands, mix the ingredients to combine and form a firm but rough dough. Cover the dough with a tea towel and refrigerate for 25–30 minutes to chill.
Dust a workbench with flour, turn out the chilled dough and knead gently, until smooth. Work the dough into a rectangular shape by hand, then roll with a rolling pin in one direction to make a rectangle roughly 50cm x 20cm. Streaks of butter should be visible, indicating that it hasn't been overworked.
Fold the top third down to the centre and fold the bottom third up to overlap. Turn the dough 90 degrees, either to the left or right, and roll again to a 50cm x 20cm rectangle.
Repeat this folding and rolling one more time, then cover with a tea towel and refrigerate for 25–30 minutes to chill.
Meanwhile, preheat the oven to 180°C. Divide the chilled dough into 3 equal portions.
Lightly dust a workbench with flour and roll 1 portion to a rectangle about 25cm x 20cm and about 3mm thick. Cut 2.5cm wide strips along the length of the rectangle so that each strip is 25cm long and 2.5cm wide.
Lightly grease some cannoli tubes with oil and wrap a strip of pastry around the length of one tube in a spiral, overlapping as you go, to ensure there are no gaps. Repeat the same process with the remaining 2 portions of dough.
Place the tubes on a baking tray lined with baking paper and bake for 20–25 minutes, or until golden brown. Place each cannoli tube with the pastry wrapped around it on a wire rack to cool for an hour or so, before gently separating the pastries from the tubes.
While the pastries are cooling, prepare the cream filling. Add the cream, icing sugar and cardamom to the bowl of an electric mixer fitted with the balloon whisk, and whip until stiff peaks form. Place the cream into a piping bag and pipe it into the cooled pastries to fill.
Place the extra icing sugar in a bowl and roll the filled pastries in the sugar, to coat all sides. Serve sprinkled with ground pistachios.
Images and text from Parwana by Durkhanai Ayubi, recipes by Farida Ayubi with assistance from Fatema Ayubi. Photography by Alicia Taylor. Murdoch Books, RRP $45.00.