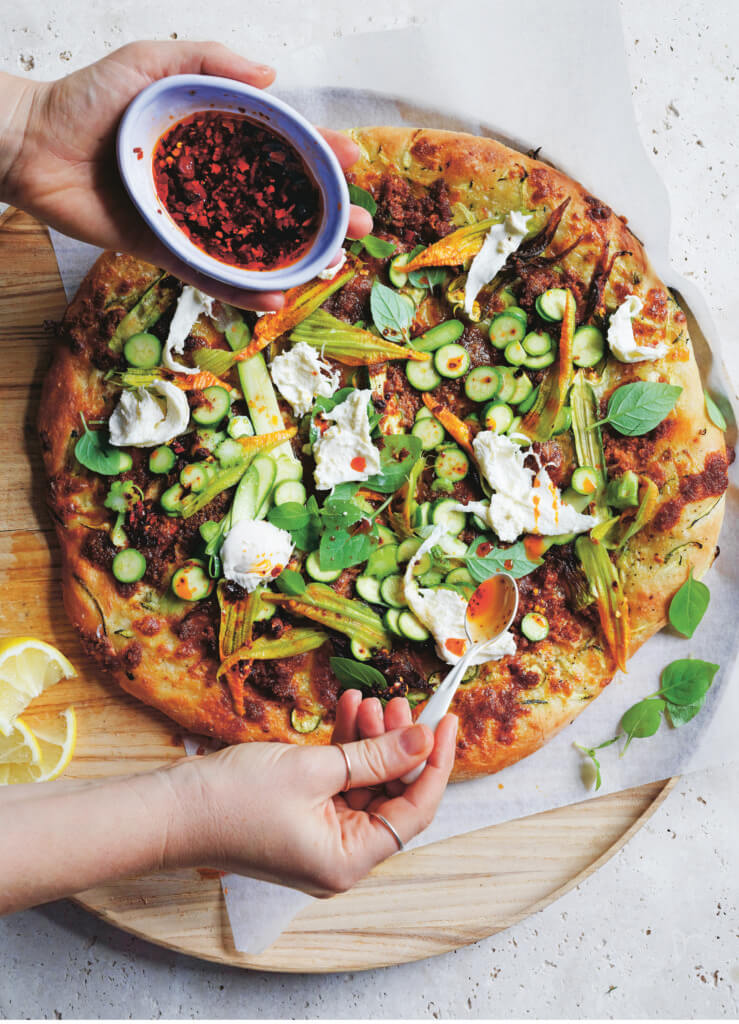 Once you get the hang of making this pizza, which is sublimely pretty with the addition of torn zucchini flowers, you can add whatever toppings tickle your fancy – from truss tomatoes (or even just freshly torn basil for a plain margherita) in summer, to pumpkin and caramelised onion in the cooler months.
OVERNIGHT DOUGH NOTE: Make the dough a day ahead.
3 cups bakers flour
1 tablespoon honey
1 tablespoon extra virgin olive oil
1 teaspoon dried yeast
1½ teaspoons salt flakes
1½ cups lukewarm water
1 zucchini, coarsely grated
Olive oil, for greasing y Flour, for dusting
PIZZA TOPPINGS
200g sour cream
200g fior di latte or mozzarella cheese, coarsely grated
½ teaspoon ground nutmeg y 12 baby zucchini, with flowers attached
120g nduja, crumbled, or finely chopped chorizo (optional)
2 tablespoons extra virgin olive oil
TO SERVE
Basil leaves
Extra zucchini and flowers
Extra fior di latte or mozzarella (optional)
Crispy chilli oil
Lemon wedges
METHOD
1 . For the overnight dough, place all the ingredients except the zucchini in a bowl. Mix to combine until it forms a sticky wet dough. Cover with a tea towel and leave in a cool spot for at least 8 hours, or until doubled in size. If you're worried about temperature fluctuations (especially if you're in a warmer climate), leave the dough in the fridge for 12 hours, or until doubled in size.
2 . The next day, preheat the oven to 220°C. Grease two non-stick pizza trays with olive oil. Add the grated zucchini to the dough and roughly knead to combine. Divide the dough in half. On a lightly floured work surface, stretch out one piece of dough to a circle of 2cm thickness and transfer to a pizza tray. Repeat with the remaining dough, then bake for 10 minutes, or until the base is cooked.
3 . Meanwhile, combine the sour cream, cheese and nutmeg in a bowl. Remove the flowers from the baby zucchini and tear into pretty strips. Thinly slice the baby zucchini.
4 . Divide the creamy cheese mixture between the pizzas, using the back of a spoon to spread it out to the edges. Scatter the nduja over (if using), then top with half the zucchini flowers and zucchini slices. Drizzle each pizza with 1 tablespoon of the olive oil.
5 . Bake for 12 minutes, or until the dough is golden and moves easily from the base of the trays. Scatter with basil leaves, the remaining zucchini slices and flowers, and extra cheese (if using). Dollop with crispy chilli oil and serve with lemon wedges alongside for squeezing over as the pizzas hit the table.
GO MEAT-FREE: The nduja is absolutely an optional extra. Switch it out for a tablespoon or two of chilli paste, if you like. TIP: Some store-bought pizza doughs these days are of a pretty high quality. Look for ones where the ingredients most closely resemble those in this recipe.
Excerpt from In Praise of Veg by Alice Zaslavsky.