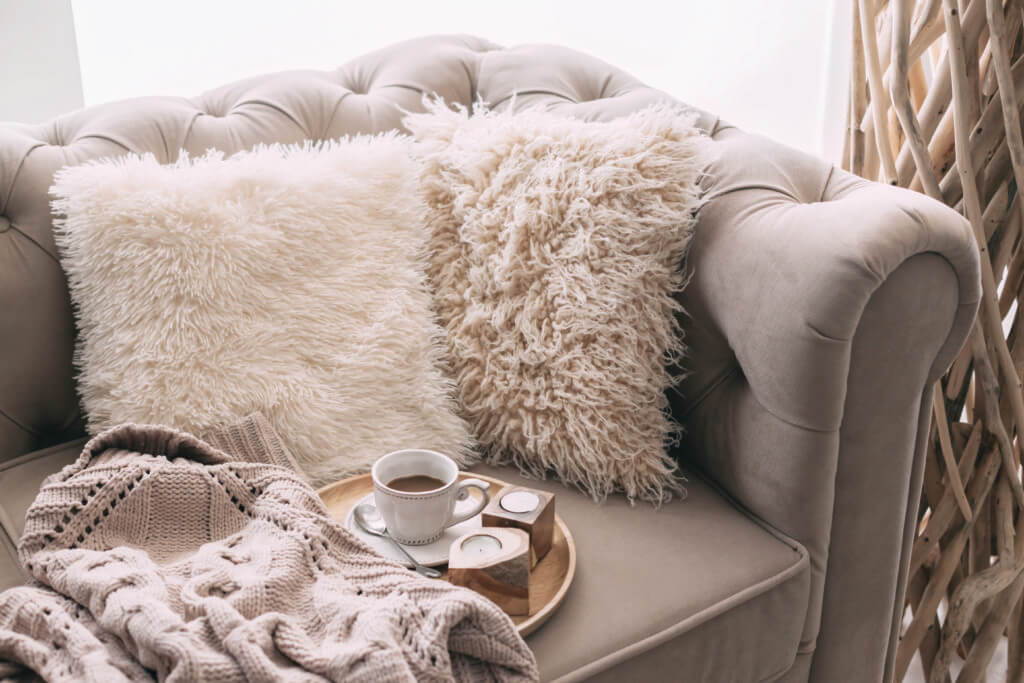 The seasons are changing, bringing cold and wet weather. It's time to redecorate your home to create a cosy sanctuary
Your home is your space. It should be a place where you feel comfortable and safe, a place where you can unwind and be  your true self. But sometimes, home can be a cause of anxiety, where it feels like nothing goes together and the cosiness tends to lean more towards messiness. Where the textures don't fit the season, and suddenly you're left in a space that doesn't feel as comfortable as before.
Thankfully, the winter months bring a wave of creativity and warmth, and with a new season comes new possibilities. The best place to capture this creative energy is in your own home. Look around your space. With winter in mind, what do you think could be added to help make your home into a cosy sanctuary just right for you?
TEXTURES AND LAYERS
Don't be afraid to add layers and experiment with textures. Winter means cooler weather, suggesting that it is time to invest in some weighted blankets, quilts, and throws. Adding subtle soft textures around your home, like cashmere or velvet, could also add an essence of cosiness. Another texture that is often associated with winter is wood, with logs piled together near a fireplace, or a wooden table adorned with a candle. However you incorporate it, it will be sure to add the perfect, rustic feel to your den.
COLOUR
The best tones to use in a cosy winter setting are neutral and earthy. Think grey, white, gentle pinks or soft greens. Try finding throws to match your furniture that align with these hues. A quality cream blanket can match with almost anything, and will give a feeling of warmth to your home just on its own. Layer and add colours as you see fit, but try to keep it as calm as possible.
PLANTS
Not only does greenery brighten up a room, bringing colour and elegance to a cosy environment, houseplants also bring nature, and all its healing benefits, into our own homes. With winter comes cooler temperatures and rain, and because of these elements we tend to stay inside. Adopting some plants around the house will lift your spirits and make your home feel more connected to the world outside, without you having to get drenched from a downpour.
A PERSONAL TOUCH
Nothing says winter more like an evening curled up under a blanket with a good book. Add a personal note to your cosy winter haven by placing items that speak to  your  creative taste. An example of this would be to layer books of your favourite genre on the coffee table or to hang up a piece  of artwork that you find emotive. Whatever you decide to add, make sure that you feel like it mixes well with the vibe you're trying to create.
LIGHTING
Winter calls for warmer lighting. A good way to achieve this is to swap out your lightbulbs to a warmer tone. Try stringing up some fairy lights, or alternatively, crumple them up and put them in mason jars, placing the jars on shelves or on the coffee table. If you prefer to give an authentic winter aroma to your space, light a couple of organically-spiced candles and place them around the house.
These tips will add a warmly lit urban touch that is guaranteed to foster an environment of warmth and security this winter season.